Parents and students are advised to study all rules and regulations carefully. They must adhere to these rules in all respects. It is obligatory on all to abide by these rules. Violation of these rules may lead to the expulsion of a student / parents from the school.
1. All students are instructed to reach school in time.
2. No student shall be allowed to attend classes without proper school uniform except Playgroup.
3. The person who escorts a child from school should show the school I.D card on the school gate for security reasons.
4. From Class Three onwards, a system generated 'absent message' will be sent to the parents of absent students.
5. In case of any inconvenience or inquiry, students/parents are advised to consult respective class In-charges.
6. The school premises, classrooms and surroundings must be kept neat and clean.
7. Students are strictly prohibited to write on walls and whiteboards.
8. Students are not allowed to take leave without any specific reason or emergency. The leave application form must bear signatures of both the parent and Class In-charge.
9. At Junior schools, the students are encouraged to take part in different co-curricular and sports activities to groom their personality.
10. Students must focus on moral and ethical values.
11. Students are advised to pay full attention to the teachers' lecture in the class.
12. Discipline in the school premises must be maintained by all means.
13. Instructions and notices issued by the Principal or the Vice Principal should be followed strictly.
14. The Clerical Staff, Security Guard and the Office Management Staff render commendable services to the students. Therefore, they deserve due regard from the students.
15. Girls are not allowed to bring jewellery to school.
16. Extension in fee can only be granted twice in a session with prior approval of the principal within the current month.
At Pakistan Public School, we believe that class activities play a crucial role in promoting the holistic development of our students. Our carefully designed activities encompass a wide range of skill-based games, strategies, and interactive exercises that are aimed at enhancing students' understanding and effectiveness in specific areas of learning. By engaging multiple styles of learning, we aim to create an immersive and interactive learning environment that caters to the unique needs and preferences of every student. Our classroom activities are an integral part of our teaching methodology, where students apply and practice the theoretical concepts learned during the lesson with the guidance of our experienced teachers.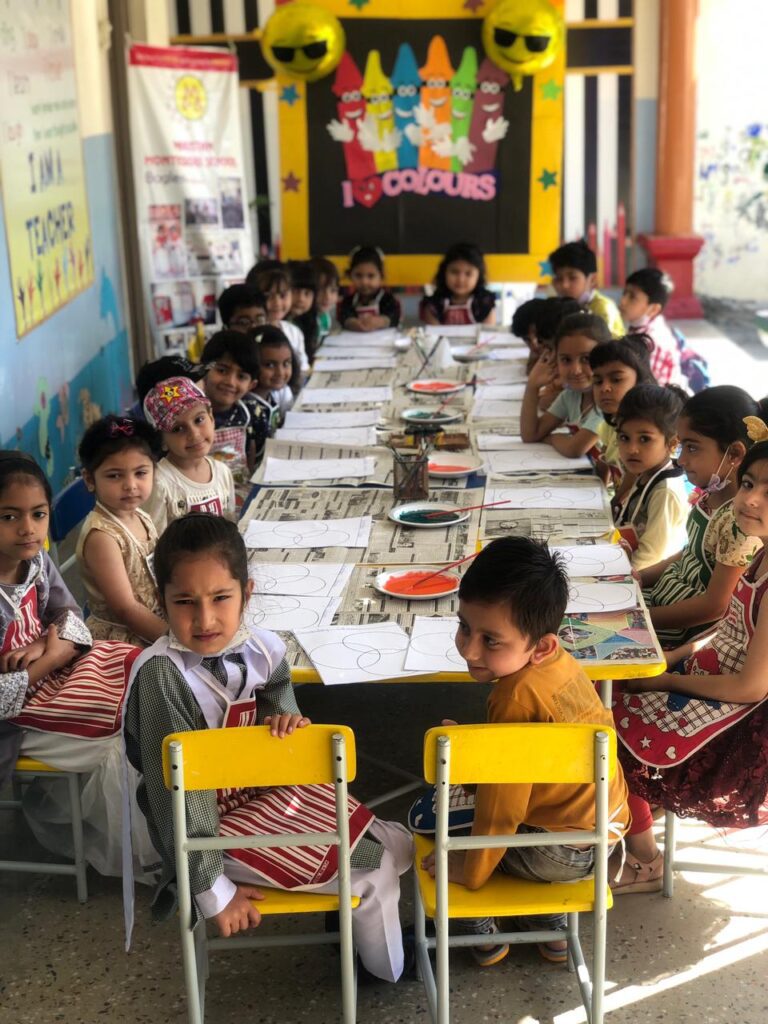 We strongly believe in the importance of co-curricular activities in a student's overall development. Our co-curricular activities are designed to complement and enhance the academic curriculum, promoting a well-rounded education. These activities include a wide range of options, such as sports, music, art, drama, and community service, allowing students to explore their interests and develop new skills. Our goal is to provide students with opportunities for personal growth, leadership development, and character building. Through participation in co-curricular activities, students learn the importance of teamwork, responsibility, and time management, while building lasting friendships and developing a strong sense of community. We are committed to providing a supportive and inclusive environment that allows students to thrive both academically and personally.
We recognize the importance of sports in the healthy development of our students. We aim to instill discipline and sportsmanship in our students, as well as teach them valuable life skills such as punctuality, patience, teamwork, and leadership. Our spacious courts and play areas provide opportunities for a variety of sports including cricket, hockey, football, badminton, table tennis. We have dedicated days exclusively for sports activities in our junior schools, and encourage students to come prepared in proper sports kit. Our annual sports day and regular sports camps give our students opportunities to participate in various sports competitions and showcase their skills.
At Pakistan Public School, we are committed to promoting sports as an integral part of our students' holistic development. Our Physical Training Instructors (PTIs) supervise all sports activities and ensure the safety and well-being of our students. We believe that sports contribute to a balanced mental and physical growth, which is essential for a healthy school life. Through sports, our students learn important life skills that prepare them for success in all areas of their lives.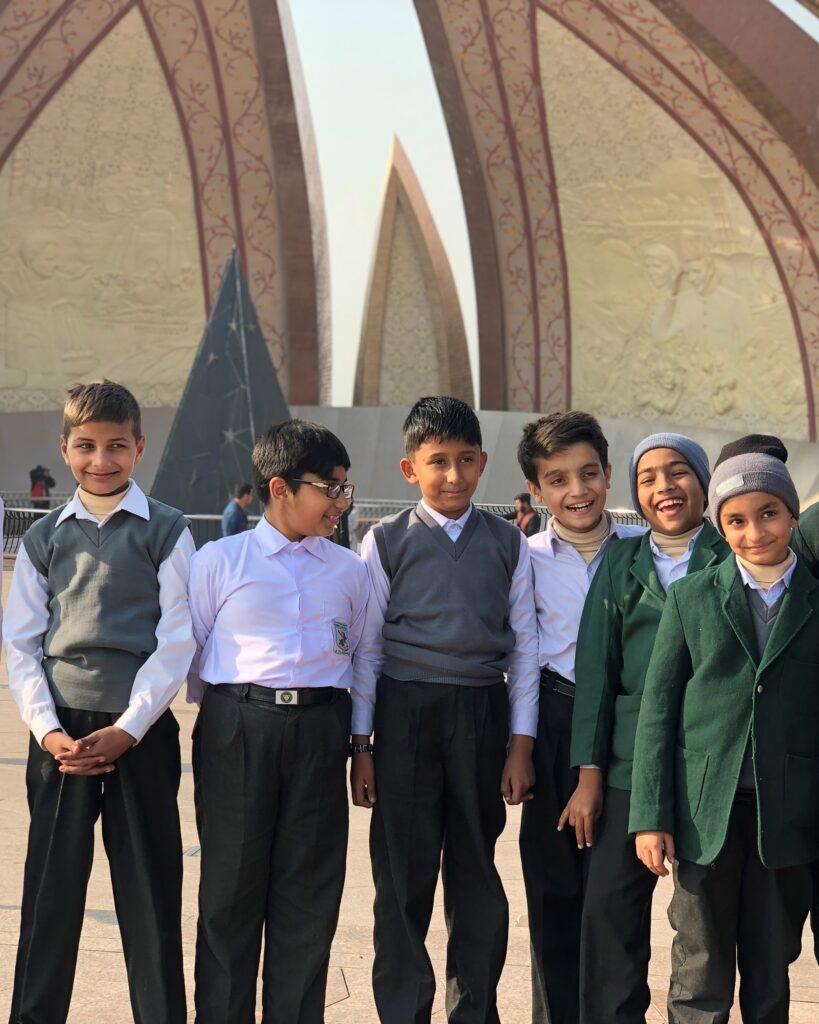 We understand that education trips play a crucial role in enriching the educational experience for our students. These trips offer a unique opportunity to apply classroom learning in real-world situations and help students connect with the material on a deeper level.
Our education trips are carefully designed to complement the academic curriculum, offering hands-on experiences that allow students to see and learn about the world in a new way. In addition to academic benefits, these trips also promote personal growth and development, building important life skills that are valuable for success in all areas of life. We believe that education trips are an essential component of a well-rounded education and are committed to providing our students with these valuable experiences.
We believe that every child deserves access to quality education, regardless of their financial background. That's why we offer a variety of scholarships to help students achieve their educational goals.
Our scholarship programs include Orphan scholarships, Need-based scholarships, Sibling scholarships, and Shuhda scholarships.
Our orphan scholarship program is designed to support students who have lost one or both parents, providing them with financial assistance to cover the cost of tuition, books, and other school expenses. Need-based scholarships are available to students who demonstrate financial need, while sibling scholarships are offered to families with multiple children enrolled at our school. Additionally, we are proud to offer Shuhda scholarships to the children of martyrs who have sacrificed their lives for our country. These scholarship programs are just one of the many ways that we are committed to making quality education accessible to all students.
CCTV cameras have become an integral part of security systems in many educational institutions, including Pakistan Public School. These cameras help to monitor and ensure the safety of our students, staff, and visitors. CCTV cameras are strategically placed throughout the school, including in classrooms, and common areas, to provide comprehensive coverage and deter potential security threats. 
In addition to enhancing security, CCTV cameras can also be used to monitor the behavior of students and identify areas where improvements can be made. However, we take the privacy and safety of our students and staff seriously, and all CCTV footage is kept confidential and only used for security and safety purposes. 
At Pakistan Public School, we believe that CCTV cameras are an essential component of our security system, helping to ensure a safe and secure learning environment for all members of our school community
At Pakistan Public School, we understand the importance of computer literacy in today's digital age, which is why we provide state-of-the-art computer labs for our students. Our computer labs are equipped with the latest hardware and software, providing students with access to a range of applications and tools to support their learning. 
Our labs are also supervised by experienced computer teachers who provide instruction and guidance to help students develop their computer skills. In addition to computer classes, our labs are also used for research, project work, and online learning. 
We believe that computer literacy is an essential skill for success in the modern world, and our computer labs are designed to help our students develop the skills and knowledge they need to thrive in the 21st century.